BEYOND FULL SERVICE...A TRUE CONCIERGE APPROACH TO THE SALE OF CLASSIC AUTOMOBILES
About Us
During the last 25+ years, Classic Cars Ltd. has enjoyed an outstanding reputation for integrity and knowledge in the collector car field.  We are fortunate to have the continued support of long time customers, many of whom have become personal friends over the years.  Virtually all of our business comes from repeat or referral business and we often represent vehicles from the collections of our clients as they acquire new vehicle to satisfy their collector car "bucket list" of vehicles to own.  Whether it be an MGB or a Maserati, we remain passionate about classic cars and, at the end of the day, it is and always will been all about the cars, and their owners.
We are centrally located in beautiful Pleasanton, CA., the heart of the Livermore Wine Country, with access to Northern & Southern CA shipping ports to meet our customers' global needs. We look forward to talking with you regarding your collector car needs.
Paul R. Wankle, President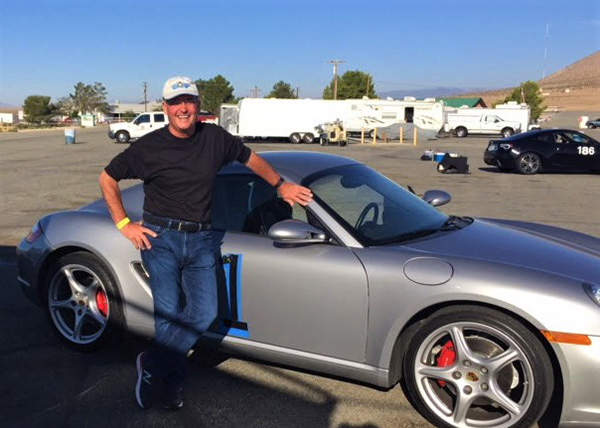 Born and raised in Chicago, Paul's interest in automobiles began early with an experience that left an indelible mark on the impressionable teenager. In possession of only a learner's permit "Uncle Marty" allowed him to drive his 1963 Jaguar XKE Series I.  A worldwide traveler and avid British car enthusiast, Marty would later acquire a Lotus Europa, Austin Chummy, 1929 Rolls Royce Phantom II, and others, all of which Paul had an opportunity to drive on the twisty roads around Chicago's North Shore.  By age 15 ½ he acquired and was restoring his first car, a 1963 Corvair convertible that was finished on his 16th birthday, the day he received his driver's license.
Paul developed an appreciation of sports cars that offer an excellent power to weight ratio, superb handling, and a high fun to drive quotient in addition to being exposed to his "big sister's" friends' hot rods and muscle cars that were prevalent in Chicago during the 1960's.   To further cement his interest in all things automotive, a close relative was active in sports car racing at Illinois & Wisconsin race tracks where Paul found himself helping (or getting in the way, depending on your point of view) with the preparation of racing sports cars.  By the time he was out of high school he was totally hooked and there would be no turning back on a lifelong interest in cars.
Paul received his B.A. in Business Administration at Lakeland University, located just a few miles from Elkhart Lake, home of Road America.  "Elkhart" provided an opportunity to attend the races as a spectator and, for the first time, spend time on the race track in a wide range of sports and sporting sedans at his "home" track of Road America and other nearby Wisconsin race circuits.
In 1980, Paul accepted a corporate transfer to the San Francisco Bay area with increased management and national sales responsibilities for a major corporation.  California offered the perfect climate, not only for accumulating a personal collection of specialty vehicles, and for increased racing activities, and Paul took full advantage of both opportunities.  He spent time honing his skills at racing schools in the United States and Canada accumulating significant time on the track in Formula cars and European sports cars.  He was invited to drive the Mercedes SLS AMG at the USA release on Laguna Seca race track, Monterey, CA.   During this time, Paul also completed several "frame-off" restorations  on several British vehicles, including a Lotus Elan Sprint, Mini Cooper "S", and several Austin Healey "Bugeye" Sprites.
In 1993, having left corporate life behind to follow his lifelong passion, Paul founded Classic Cars Ltd. in Pleasanton, CA.  25 years later, Classic Cars Ltd. has become international in scope but remains in its original small town location in Pleasanton, Ca., and under his uninterrupted ownership.  Turning his vision into reality, he has had the pleasure of dealing with customers across the globe, making long standing friendships along the way.  The business model that began in 1993 remains unchanged with the goal of providing high quality California sports, high performance and specialty vehicles to buyers around the globe and providing what Paul refers to as "Beyond Full Service…a true concierge approach to the sale of classic automobiles."
Paul's travels have taken him around the world to meet with clients and attend F1 races, and Motorsports events, including Goodwood, Monaco, and other international gatherings. His personal vehicles have been featured in multiple international automotive publications and received recognition at car shows  and Concourse events.   Classic Cars Ltd. has received global recognition including featured articles on its vehicles, and was highlighted on a segment of the TV series, Car Hunters.
A lifelong active animal advocate, Paul has held Board of Director positions with the local humane society and has been involved with AKC (American Kennel Club) certified therapy dogs for over 10 years.  Paul and his canine companions have organized and attended bereavement camps for kids, provided services to special needs children, Veterans, and others who benefit from the unconditional love that a canine provides.
Paul welcomes visitors to the Classic Cars Ltd. showroom, but asks that you call in advance to be sure that he is not attending a local car event, or "exercising" one of his collectible cars on a road trip on beautiful California roads with one of his clients / friends.
Enzo, VP Human Relations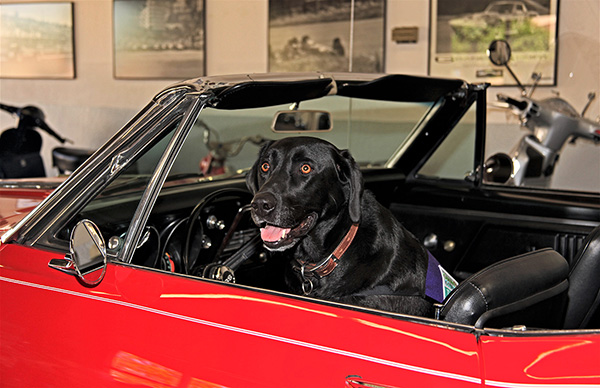 Enzo has the distinction of being the Vice President, Human Relations at Classic Cars Ltd.  We were fortunate to rescue Enzo, a black Labrador, after he was found wandering the streets of Stockton, Ca, a year ago at age 3.  Since that time, Enzo is a fixture at Classic Cars Ltd. and can be found on his bed at the front door, quick to greet every customer with a warm welcome (and the hope of a pet, or treat).
Enzo's name was changed from his shelter name of "Bob" in honor of one of our favorite books, "The Art of Racing in the Rain," and as a tribute to Enzo Ferrari.  During the past year, Enzo has been an important part of our lives, we are proud of his certification as a therapy dog carrying on the tradition of his predecessor, Buddy, who held the same position for over 10 years at Classic Cars Ltd.